Executive Transformation Workshops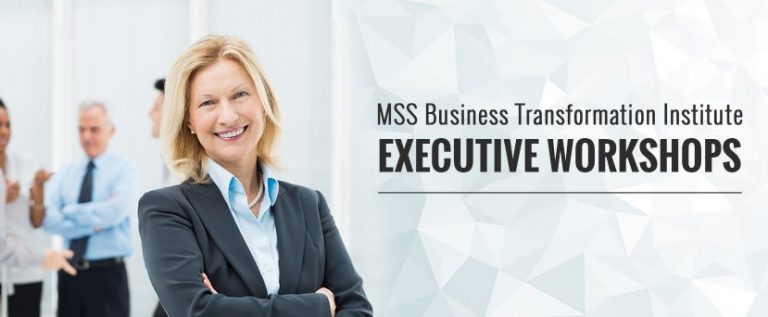 MSSBTI Executive Transformation Workshops are designed and taught by leading experts and educators who have helped hundreds of local and global organizations execute highly successful business transformations. Each workshop is highly interactive; enterprise leaders will interface with the Presenters and other senior-level executives. Participants will gain a clear understanding of what is needed to successfully lead their organization through transformation.
---
Effective Leadership: Understanding What It Takes
Presented by Michael Mobley, MBA
There is no universally accepted definition of leadership, but most of us have some perspective of effective leadership and, therefore, we feel we know it when we see it. This workshop is designed to provide business owners and their staffs a primer on the importance of effective leadership to the growth, profitability and value creation for their businesses in the areas of Motivation, Discipline, Effective Communication, Emotional Intelligence, Situational Analysis.
Cyber Security: Bridging the Gap between Cyber Threat Landscape and Business Culture
Presented by Dr. Roméo Farinacci
Using "The Six Principles of Resilience for Digital Business Risk and Security", this workshop aims to collaborate with security and C-level leaders to educate, communicate, and build a strategy to define business impact in relation to cyber threats. Participants will use tools and techniques to explain cybersecurity value and impact to the business from both a quantitative and qualitative perspective.
Quantum Negotiation: The Art of Getting What You Need
Presented by Karen S. Walch, PhD & Anna Sokolova, JD, MBA
High performance and buoyancy in negotiation are at the core of all leadership roles. The Quantum Negotiation™ preparation framework explores who we are as negotiators in the context of our social conditioning. This program is designed to discover, accelerate and transform leadership capacity about HOW to communicate, collaborate, negotiate, innovate under disruption and uncertainty.
This is a highly interactive, possibly personal impact course and includes an optional 5 hours post workshop follow-up to assure participants are successfully integrating presented materials and experiences that took place during demonstrations and interactions with other participants.
Transforming Talent Acquisition
Presented by Claudio Miers and Walter Baker
The talent acquisition process in many cases, is the most critical investment a company must make in support of its business strategy. We will examine the Talent Acquisition Process from A to Z, starting with a thorough understanding of what kind of talent mix is needed to achieve the business goals and go all the way to ensuring the brought-in talent will stay and prosper with the organization.
Post-Merger Integration: A Transformative Roadmap
Presented by Steve Uthoff, MBA, CPC
This workshop will cover a unique set of tools and methodologies plus tried-and-tested market approaches in successful transactions. The workshop is designed to facilitate breakthrough results for the participants by educating executive leaders to accelerate the design and development of transformational strategies while ensuring that their organization is fully aligned to vision, direction, and execution.
The New Executive Language: The Transformative Power of Metrics, Transparency and Simplicity
Presented by Dean T. Kashiwagi, PhD, PE, Fulbright Scholar
Successful executives are motivated to improve profits and minimize costs. The challenge is to lead their organizations to become effective and efficient, increasing value while cutting costs. Utilizing a language of metrics which creates simplicity and transparency, executives can reduce their organizational costs by up to 30%, eliminate 70% of all meaningless transactions, and effectively track and motivate the performance of their personnel and organization.
All workshops can be customized for groups or teams
For more information about any of the Executive Transformation workshops, contact David Lee at dlee@mssbti.com or 602-387-2128.